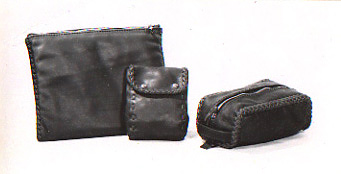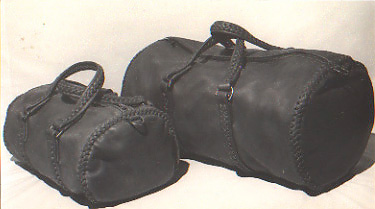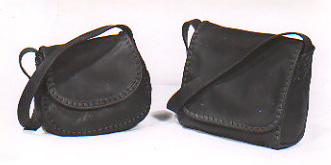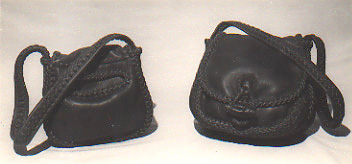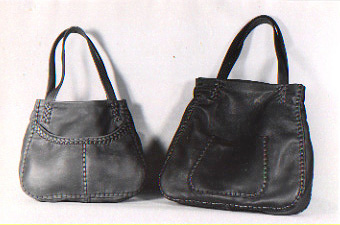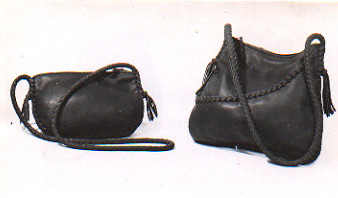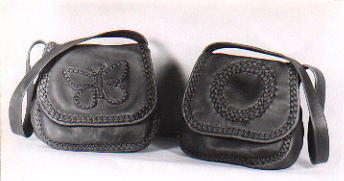 Pictures of handmade leather handbags that I have custom made for over 30 years. These pictures were used to make a small catalog. These bags are all truely handmade - without the use of electricity.

The bags below have evolved since these pictures were taken. More recent variations of them can be seen on my
purses and handbags
page. I have learned to make them more suitable to more people. The zippers on the smaller ones are long enough to fit a checkbook into. I now gather the seams, of the two designs on the left, to give them more room.
A leather portfolio, belt pouch, and a shaving kit - or what I call a 'zip kit' because it can be used for so much more than shaving.

I like to empty my pockets into one of these zip/shaving kits when I'm on the road. I have some friends that use them for their insulin kits.

The portfolios I make in various sizes. Most of them being legal size - larger than the one shown here.

leather handbags and purses, custom, handmade, braided


Check out these links to other braided leather things that I make and read my
guest book
to see what others have said about the leathers they have purchased from me.
leather tote bags, large and small

Several of these braided leather handbags are featured on other pages that can be accessed on my
purses and handbags
home page.
Anderson Leather Braiding

since 1972

David C. Andeson

1814 5th St. NE

Bemidji, Minnesota USA 56601

Telephone: (218) 751-0445

or my ISP address